5ml-100ml Plastic Empty E Liquid Dropper Bottles With Pipette
Size: 5ml 10ml 15ml 20ml 30ml 50ml 100ml

Shengshide is a leading supplier (factory, manufacturer, exporter) of 5ml 10ml 15ml 20ml 30ml 50ml plastic empty e liquid dropper bottles with pipette in China.

5-100ml Pipette Plastic Empty E Liquid Dropper Bottles
Screw cap, needle cap, childproof cap, tamperproof cap, child safety cap, child & tamper evident cap available
Transparent PET or soft semitransparent PE
Dropper insert, needle, Long thin tip, normal tip, short thick tip available
Clear, milky, silver, blue, golden, grey, green
Dropper can be well controlled liquid dripping
Available for e-liquid, e-cigarette, e-juice, smoking oil, eye dropper, light oil
With a pipette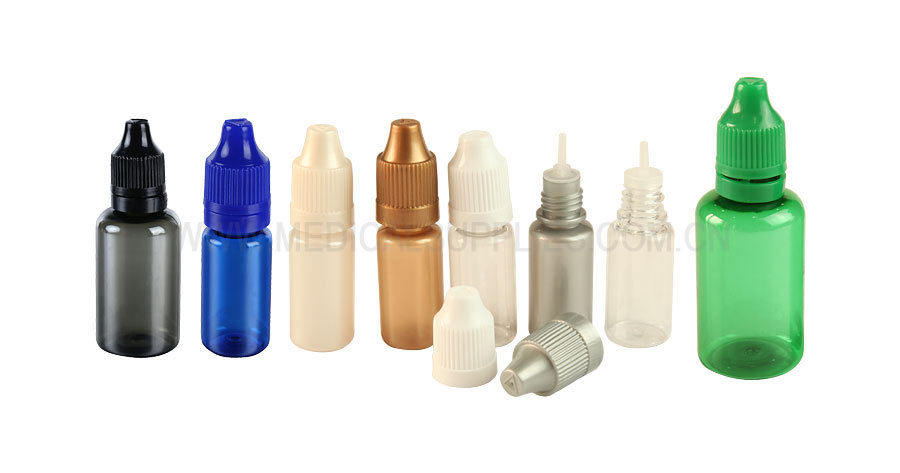 Plastic e liquid bottles are perfect for DIY e liquid production. The plastic bottles come with plastic screw up cap.
Excellent design
No leaking
Super easy to work with
Easy to squeeze

Reusable bottle

Include:
Empty E liquid Bottle
Plastic Cap
Insert tip (optional)
Needle (optional)
Need to place a wholesale order for plastic containers for e-liquids, e-juice, medicinal liquids and more. Shengshide is the leading supplier of empty e liquid bottles, and with our wide selection, we're sure to have just the right sizes and types of bottles for your uses.

Our plastic bottles are high quality and BPA-free and available in a rainbow of vibrant colors. Shengshide offers plastic bottles in 10ml, 15ml, 30ml, or 50ml sizes, and different color bottle caps are available so you can customize their appearance. These bottles are flexible enough to make them ideal for use with e-liquids or even eye drops, but are durable enough to withstand repeated use -- or even storing acids.

High quality plastic bottles from Shengshide are also available with different colored bottle caps and come in sizes of 10ml, 15ml, 30ml, and 50ml. and come with tamper-evident (optional) and child-resistant caps. Even better, because we own the molds to all our bottle styles.

Whichever style of plastic e liquid bottles you choose, Shengshide Bottles offers the best wholesale pricing on e liquid bottles as well as fast delivery of your order.
Shengshide Packaging wholesales 5ml-100ml Plastic Empty E Liquid Dropper Bottles With Pipette, Just 2000pcs get wholesale price, now.