5ml Colored Oral Syringes with Tip For Kids
Available Size: 1ml, 3ml, 5ml, 10ml
With tip
Safe
Disposable
Color Available: Red, pink, amber, yellow, green, purple, etc.

Colored oral dispenser, oral syringes with Tip have long been recognized as the safest and most accurate method to administer oral liquid medications.

These advantages are greatly magnified in pediatrics, geriatrics, and in hospital environments where potential confusion with intravenous and enteral lines and inhalation systems make dosing with standard hypodermic (injectable) syringes even more dangerous.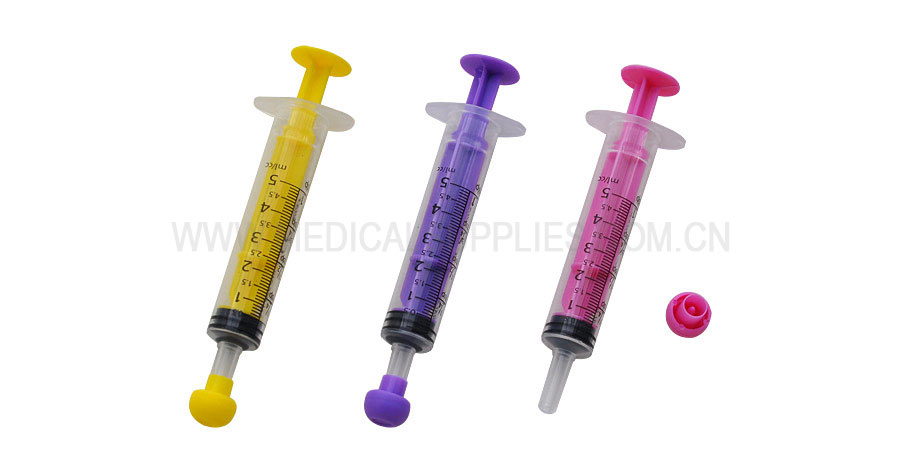 They are especially valuable in clinical research where dosage accuracy has fundamental importance. Available in 1ml, 3ml, 5 ml, 10 ml sizes, our oral dispenser is designed to meet the demanding needs of safety, ease of use and accuracy of dose. The three-piece design oral dispenser provide a smooth, nonstick feel that makes it easy to use. To provide the highest quality product,
Shengshide oral dispensers are all vision inspected for dosing line and printing accuracy. We also pressure test each oral dispenser to make sure the seal between the plunger and barrel is 100% secure.
Children are more sensitive to medications than adults are. If given in the wrong dose or at the wrong time, even some of the most benign over-the-counter (OTC) medicines can be ineffective or harmful. Here's how to give medicine to your kids with confidence.
Relative Plastic Oral Dosage Syringes
Shengshide Packaging wholesales 5ml Colored Oral Syringes with Tip For Kids, Just 2000pcs get wholesale price, now.